The excitement is building as the team at Adare Manor prepare to open the hotel in the autumn following an 18-month renovation and expansion programme. Skilled professionals will provide best in class service and facilities, including innovative dining options for guests. Maev Martin reports.
Loughlin Druhan was appointed as Director of Culinary at Adare Manor earlier this year, having lived abroad for over 15 years. His distinguished professional career, spanning over 20 years and four continents – Europe, North America, Africa and Asia – highlights his dedication to the achievement of culinary excellence. "I think it is valuable to learn and understand different cuisines, whether its Asian, Arabic, Indian, or European, as it helps to develop your taste buds and you learn about different spices and products from around the world," he says. After an almost five-year stint at the K Club, he took off on his travels abroad, working in The Dorchester Hotel in London, Michelin star restaurant, La Rochelle, the Jupiter Island private resort in Florida, and Ritz Carlton Hotels in Bahrain, Cairo and Dubai, as well as for the Dubai Jumeirah Group. "Food is my passion and it is important that we prepare the very highest quality we can for our guests, but we will only achieve this by ensuring that we are using the very best products available," he says. "We are now finalising our product lines. Then the creating and fine tuning of recipes will begin. I am really looking forward to this. I have done a huge amount of travelling and gained great experience working with some of the best in the industry. One that stands out is Michael Caines, who has a two Michelin star restaurant and hotel in Devon. Michael has been an inspiration and major influence throughout my career. He lost his right arm in a car accident when he was 21 but he never gave up. He was back in the kitchen three weeks later and was more determined than ever to succeed. It just shows you the dedication that chefs like Michael have."
Food Philosophy
The team at Adare Manor, led by CEO Colm Hannon, General Manager, Paul Heery, Director of Business Development, Anita Higgins, and Loughlin, are determined that all food and beverage at the property will deliver 'top quality of product, taste and presentation'. The culinary team have just returned from a nine-day culinary road trip all over Ireland where they met over 100 producers and artisan suppliers, visiting them in their own premises, sampling products, cooking at each location and coming up with some great ideas for future recipes. "We experienced the environments that help us create the highest quality food, meeting everyone from farmers to fishermen," says Loughlin. "We are very lucky here with the support that we have received from the owners of Adare Manor, who are helping us to create a bespoke and progressive culinary offering by providing us with the best technology available on the market, including the latest induction technology, ordering systems and cooking equipment. This also helps us to be organised and efficient in terms of the timeliness of the service that we offer in our dining areas." Adare Manor's state of the art F&B and culinary offering will be available to guests in a wide range of restaurants throughout the property.  The restaurants will feature a unique design and layout, which will reflect the dining experience that they are providing to guests, from relaxed, informal dining to an elegant, exquisite culinary ambience. "I believe that we will have a great product,  superb restaurants, and a hard working and expert team, which will deliver the highest standards and allow us to become one of the top culinary destinations in Ireland, if not Europe," he says.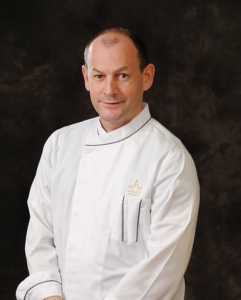 The A Team
Adare Manor recently embarked on a major recruitment campaign to fill 300 new positions at the resort, bringing the number of people employed to over 350. When it opens in late autumn 2017, they expect to welcome circa 60,000 visitors annually. In addition, the resort expects to contribute in excess of 115m to the local economy each year. "We have our senior team on board who are now in the process of hiring for all other positions," says Loughlin. "We recently held three very successful recruitment open days at Adare Manor because we were eager to find the right people to join the team across a number of departments, including F&B, chefs and stewarding, housekeeping and front of house. For Adare Manor, there is no difference in products or quality across the resort – the benchmark is the same, whether it is banquets, the fine dining Oak Room restaurant, or the Carriage House." Has Adare Manor experienced any difficulties in recruiting staff, particularly chefs? "We are in a lucky position in that we have new kitchens with the very latest in technology and kitchen equipment," says Loughlin. "I believe this gives us a slight advantage in the hiring process, but overall it is the standard that we are setting that is attracting chefs to join us at Adare Manor. Work life balance is also important to us – we want to achieve that and ensure that our chefs enjoy working here." What does he regard as the major difference between running a restaurant kitchen and a culinary operation in a hotel? "It is probably the support you receive," he says. "I believe in having a hotel team that connects with each other and offers support. For example, if we are busy in banqueting, it is important that we have the ability to support chefs from other areas of the resort.  Our team really enjoyed getting to know each other on our recent culinary road trip, so we are looking forward to great times ahead!"